Achievement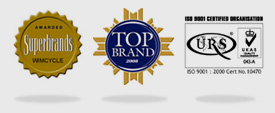 Wim Cycle places the highest priority on precise inspection and tight quality control to ensure products are free from defects and that they conform to safety standards. The tests are performed by quality control technicians using modern laboratory equipment.
The company acknowledges the importance of quality control from the very beginning of the manufacturing process. Raw materials and components are acquired from reputable sources that surpass international requirements for safety and quality. The mechanical tubes used by Wim Cycle have passed Japan Industrial Standards, and the component parts have passed British Standards and Customer Product Safety Commission Standards. In 2001, Wim Cycle achieved ISO:9001 certification, and in 2005, achieved URS certification.
Wim Cycle's commitment to quality control has helped the company achieve an excellent reputation in export destination countries, as well as the domestic market.